I'm sure you're all aware, but nearly every day in every month of the year has something special attached to it, sometimes more then one thing, such as Donut Day so let me tell you about today, the last Friday in April, which has been designated Arbor Day by the Arbor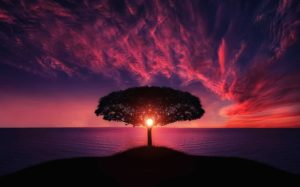 Day Foundation.
Now any day is a great day to plant a tree, but the last Friday in April is special. Trees are to be celebrated for how they benefit us all with the way that they help provide oxygen from the carbon dioxide in the air through photosynthesis, by slowing down climate change and providing safe habitat for birds, animals and insects in their branches and bark. They also look pretty good as well.
Trees start small when planted, but with the proper nurturing and help, they will grow to be magnificent examples of what can be achieved from these small beginnings, And their roots are the huge support network that helps them achieve this magnificent growth over time and keep them steadfast in bad conditions.
So what has this got to do with us, as internet marketers, I hear you ask?
Well all businesses start off small and weak needing gentle nurturing and assistance to grow bigger and stronger. They too need a good support network behind them to mature and to support them in the bad times.
So if you have been thinking about having your own online business then why not take the decision, today, on Arbor Day to start. I can recommend a great place where you can find the help and support to assist you to set up the right conditions for growth and nurture through the early times until you are big enough and strong enough to cope going forward. But this help and support is never far away and will be there when you need it.
I can personally recommend this guy, John Thornhill, and his Partnership to Success programme so I suggest that you click here and listen to what John has to say and the words of some of his students who have grown 5 figure, 6 figure and even 7 figure businesses from this training.
I'd love it if you take a look and hope to see you join me on the programme shortly
To your Success
DaveT