If you haven't been living in a cave for at least 43 years, you will clearly know the significance of why today is known around the globe as Star Wars Day. Ever since General Dodonna first uttered the immortal phrase "May the force be with you" in the very first Star Wars film, Episode IV – A New Hope, back in 1977, it has been used as a phrase for this day in May.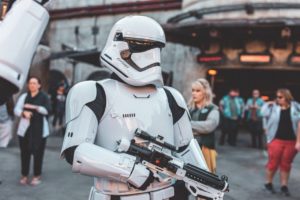 Like many I believed it was first said by Obi-Wan Kenobi in the first film, but according to recognised sources like the Star Wars Wiki site, it was definitely General Dodonna. I think I was always hoping it was Obi-Wan as the enigmatic Jedi who said it first, but you can't argue with the Wiki (or even the Wookey!)
So today everybody MAY THE FORCE BE WITH YOU and I hope you have a great day. Maybe even take the opportunity in this COVID-19 lock down to settle down in front of the TV and series binge the whole nine films as I note that Sky in the UK are giving the ninth, and final, film in the franchise, Rise Of Skywalker, its world premiere tonight.
See how clever they are with their Marketing of the film?
Now if you'd read my recent post, https://davethomasonline.com/blog/creating-relevancy-with-your-blog-posts/, you might notice that this day was one of the hashtag holidays I mentioned so you can see it clearly works as I have created a blog post around the day.
Now one thing I have been learning from John Thornhill on his Partnership To Success programme is to take advantage of every opportunity so I am suggesting that if you too are looking to build your own on-line business, you look no further than here and listen to the free webinar and consider joining the programme with me.
To your success
DaveT