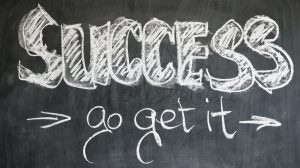 I join winning programmes, I follow the instructions TO THE LETTER, but I am not successful. I know it can't be the programme I am following such as the John Thornhill Partnership To Success training as I see others moving forward and making a success out of it so why is that person not me.
So I took some time out over the past few weeks and reviewed what I have been doing and looked to find the reason for my lack of success and, after much soul searching and grinding of teeth I think I have discovered the reason.
I am frightened of success!
Looking back, not just over the past few months, but in a whole life retrospective, I think I have discovered that I am scared of success and therefore actually don't quite finish off the work I am doing so I never have to put it forward and be judged.
Maybe it is not actually the success of which I am scared, but the thought of showing or offering up my efforts to outside scrutiny and, in my mind, being knocked back and ridiculed for a poor attempt.
Looking back at when I started my property portfolio building about 14 years ago, I seemed to find the whole process relatively easy although I did make some mistakes. I sorted these out and kept going full speed and I think because I was going at such a speed, I did not think about the view from outside and the way people thought about me. I felt I was successful, building a 19-property portfolio in 17 months with basically none of my original seed money left in the portfolio.
I had been working so hard and had neglected my circle of friends so decided to take a breather before I got back on the horse and did more of the same. But a few of them were telling me about the risks of property (not that they owned anything apart from their own house), that it would all go wrong so not to do anymore and so, for no logical reason on my part, I stopped investing.
And I think since then every time I start a new project; I think about how my circle of associates will view me and not take the scheme through to fruition. So, I think it is about time I either give up with my aspirations of success or find a new, and better, circle of associates who are more supportive of what I am trying to do.
Couple of examples of what I mean:
A leaseholder did not pay and I was prepared to take him to court, but these nay sayers said you might lose and have to pay their lawyer fees and costs so in the end I did not make the claim. But talking to a mentor recently, he said I had nothing to lose and together we drafted a court action that was sent to the errant leaseholders. Within three weeks, they buckled, and I had my money plus interest for about three years. SUCCESS.
Work was done by a builder on one of my properties and subsequently the building suffered a collapse and I was unable to make an insurance claim as the work had not been done although I had paid for the work to be done. Again, my nay sayer friends said I might lose so find the money myself and forget the builder. In conversation with my Mentor, we are progressing a claim that we will win against him and others for my repairs and loss of income for 18 months. SUCCESS
I want to write a book about my Mum and Dad and their struggle with my Mum's Alzheimer's which claimed both of their lives and again I was told by my circle of associates that no-one would be interested. Another mentor and I discussed my proposal and I are now well into the book which we will be launching as a Kindle in the next few months, SUCCESS
So I suppose I am saying that we are probably all frightened of the impact of success or our lives, but maybe other people are more frightened of seeing you get the success you deserve than you will ever be so get out there and grab it if you can.
Let me know what you think in the comments section. Am I being paranoid?
To your success
Dave Thomas