I was out walking with the wife yesterday to collect my heart medications so we had a pleasant stroll to the local Pharmacy of about 3km and got to talking about what we were missing in this government lock down. I've now been self-isolating for over four weeks and have only had a few trips out and even then not allowed to go into anywhere, just walk the dog around the car park!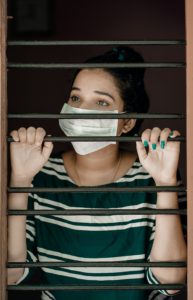 Firstly, one thing I don't like is the way we, or other people, cross the road when we see other walkers/cyclists coming making it seem as if you have a contagious disease. I suppose lepers, in those bad old days after the war 🙂 , must have felt like this, but we all know we are "protecting" ourselves from this deadly virus.
My wife surprised me by saying she was actually missing going food shopping which I know she always moans about, but our daughter has been doing this for us for a while although she does pop into the local NISA shop for treats when we come back from one of these walks or when we give our 13 year old Lhasa Apso pooch a chance to stretch his legs (if we can wake him up that is!)
I suppose one thing is the freedom to pop down the pub and have a cold beer or two as, although we have beer, wine and probably any spirit you might want to try in our garage, the feeling of being ignored by the bar staff and struggling to carry two beers, crisps and peanuts out to the pub garden is not the same as when at home.
I do miss the opportunity, on a nice warm afternoon, to take a short drive out into the beautiful local countryside, and stop off for a walk along a riverbank with the dog. Then we settle down for coffee and cakes at one of the delightful cafes located around us in Bedfordshire and watch the world go by for an hour. We do try with a cream cake from Sainsbury's in our back garden, but paying three times the price to a local business is so much better 🙁
As regards shopping, not a great lover to be honest, but the ability to drive down to the local town, wander around, pop in a bookshop and browse or even buy some DIY materials would be nice now without having to socially distance oneself and queue up for an hour or more at B&Q or Wickes.
Even my weekly visit to my local Men In Shed's meeting has gone by the board as we are all old gits and all probably in the various riskier population groups as we have all had one or more of the problems regarded as dangerous for this COVID-19 virus. Mind you we try and make do with a weekly Zoom call where the banter flows, but it is not the same although great to catch up if only for a short while.
I miss my mates at football, despite how bad our team is playing, and I miss seeing my son and his girlfriend, apart from on Facetime, and giving them hugs and kisses.
But I realise that one way to stop the spread of this virus is to follow the mantra "Stay Safe, Stay Home, Protect the NHS" so will abide by the guideleines and do my bit for the country. Even when they start lifting the restrictions, I'll probably be in one of the last groups allowed full freedom, but I know I'm protecting myself and others by not being silly.
So all of you Stay Safe and see you on the other side of this global crisis if there is anything left to go back to?