After a good nine to ten weeks of enforced self-isolation, this past week I have been allowed outside of my house into the more general world by Mrs Grumpy apart from my daily short dog walks and the more speedy and longer walks in the general fields and virtually empty pavements around here.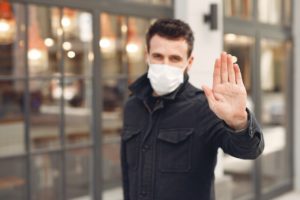 I had seen the pedestrian systems set up in shops on the TV, but these were my first physical interactions with them and I suppose in general, they worked well and would have worked a lot better if it wasn't for the complete idiots using them.
During the week, I was taken to a local nursery to assist with the selection and pick up of some large planting pots for outside the house and some seeds and general bits and pieces as, like many other households, the garden is one area that has seen most activity. On arrival there was a queuing system which everybody followed and when you got to the front you were directed to collect a barrow and encouraged to use both the hand sanitiser supplied and to use spray and disposable towels to wipe down the handles of the barrow.
Despite the fact that the majority of this site was outdoors, I was armed with a face-mask which was left on as we walked around the site following, in the main, the one way arrows. The only times we deviated was popping into an aisle a few feet and then, rather than walk down and up the next one, popped back out as long as no-one else was around us.
There were a couple of people who thought that the arrows and no entry signs were nothing to do with their movements, but eventually, when it was pointed out, succumbed to the rules and when up and down as indicated.
But on Saturday, as I am helping, where I can, my daughter get her new flat ready for her to move into shortly, we visited one of the main DIY stores in her local town and again there was the short queue of eager DIY'ers waiting to go in and a young man wiping down trolley handles for you.
I again was wearing my face-mask and I must say it is not a comfortable thing to have on your face. I must congratulate those people who seem able to wear them all the time as it was hot, stuffy and itchy despite being a very good face-mask.
Now in here social distancing was more a figment of the imagination than a method of operation as one way systems around the various racks was more an incitement to avoid than follow. I'm not sure if the challenge for many shoppers was in actually being able to determine which way you went down an aisle or whether remembering what you were looking to buy and coordinating that with reading one way system signs was too much.
As a fully fledged Grumpy Old Man, I went from simple head shakes in the direction of the errant shopper to try and make them aware of the rules of social distancing to audible tut's to some which made them look around in case they were doing wrong to open statements about the absolute stupidity of people pushing barrows in the totally opposite direction to that prescribed by the shop.
I was tempted to crash my barrow into that of someone travelling the wrong way, but was persuaded by my daughter that is would be more prudent to get out of this shop than spend time debating the basics of social distancing with idiots who would, probably, on Sunday be joining thousands of other like minded Darwin candidates on the beaches at Southend-on-Sea.
My comment to my till clerk about the basic stupidity of their customers brought a chuckle to his young face and he commented that they had tried, when the system was first introduced, to advise shoppers if they saw them going the wrong way, but a series of physical threats and verbal abuse had persuaded them that it was not such a good idea.
Do I agree with social distancing? I suppose I do as it aims to keep us a certain distance apart as specified by the clever people who are tasked with keeping us safe, but then to allow footballer's to play and have physical contact does seem to make a mockery of the whole thing.
So that is my rant over about social distancing and the idiots who can't seem to understand or operate the systems put in place.
I'd welcome your thoughts and experiences below on social distancing both in its operation and if you see it as a way of controlling the spread of COVID-19?
To your success
DaveT