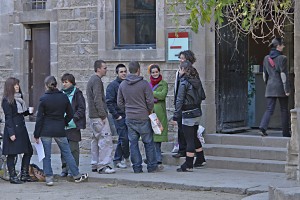 Now I live in North London near a college I attended many years ago where all the local companies used to send their apprentices for one day a week just to get them out of their hair for a day and get some work done without their interference. The courses were mainly for those people who had left school without "O" levels or "A" levels and wanted to get them for moving their education forwards or, like the apprentices, doing a day release engineering qualification.
Well as the major local companies shut down and the employment of apprentices dropped off, the number of day release students requiring engineering qualifications reduced and the college had to change their syllabus and attracted more mature students who wished to learn about languages, hobby related subjects and the like so there were less people at the college during the day and the evening classes blossomed.
A few years ago, the college was the subject of a great deal of reinvestment by the council and has now become a modern building of glass and wood and attracts young people from miles round on computer related and artsy courses if the huge portfolios of strange and wonderful paintings is anything to go by.
My rant today is not about what the college has become, but the way that the new students wander the local streets during their break times.
I think the most popular course now at the college must be the "walking roadblock" course as so many of the students, both male and female, seem to come out at certain time and adopt this method of perambulation, usually when I am trying to do some banking or shopping and usually also in a rush. The pavements are normal size so you should be able to get three people alongside each other  and still leave room to pass them either as a single walker or with a small push chair, but that is becoming difficult.
Instead you find that three students  and one of them, usually the middle one who looks like he has eaten all the buns from Gregg's, can both fill the pavement and make it difficult for you to pass as they seem to adopt a wavy walk where the central person shifts direction from left to right as he or she favours that leg and the other two both move  out a pace as he moves to their side. It is virtually impossible to get past them without waking into the road which is quite busy.
They also seem to be able to carry on conversations with each other while at the same time having both ears plugged with earphones and music blaring out. I can hear the music when trying to pass them so how they can hear each other talking is beyond me!
In the end I usually push between them after getting no response to an "Excuse Me" request and as I break the dam, I am followed by the queue that has built up behind them. I've actually started walking up to these walking roadblocks whistling the Dam-buster's theme tune and I have been thanked by old and young as I create the gap through which we all escape the slow progress up our local High Street!
Am I alone in thinking that students have no understanding of what they are doing wrong and should I be writing to the college principal asking him to get his students to walk elephant fashion holding on to each others shirt tails and allow the general public more room on the pavements?