It is often said that people will buy from someone they trust so if any of your friends refers a product to you then this trust is implicit.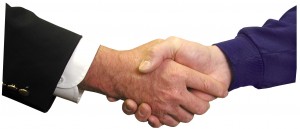 So one great way to sell more product is by getting more referrals by one of the following methods.
Offering Guarantees
This will often help when offering your clients a guarantee of satisfaction or their money back. It will also make them more likely to recommend you to their friends as they know that any financial outlay is protected by your guarantee.

Ask Clients For Referrals
The best time to get your new client to give you a referral is at the time they have just bought your latest product or service!
At this point they are excited and want to share their joy with all their friends. This is the time to pitch them for a referral by asking them a simple question such as "Would any of your colleagues benefit from using my product or service? Leave me their names and e-mail addresses and I'll send them the details"
Rewarding Referrals
I own a couple of holiday homes in Florida and I offer my clients a nightly discount for any referrals I get via them. This does not cost me any cash, just a slight reduction in my nightly fee when that person stays again, but they have to book another stay in my apartment to get the discount so I win both ways.
Similarly for, say, an IM product, you could give the referrer, as in my previous point, a discount off their next purchase or you could give them access to an associated affiliate product you have on your books as a freebie!
Send Referral E-mails
If you do not want to ask for referrals at the point of sale, I would recommend sending an e-mail within 1 or 2 days firstly asking if they are happy with their purchase and then asking them for referrals. You could pose the same question as in my earlier point of asking clients for referrals and use the information in the same way.
Remember, when you do follow up and write to these people, always make sure that you have the name of the person who referred them in the message so they know it was a friend who put their name forward!
Add A Referral Form On Your Website
On your web site you could have a simple "Click Here To Make Money" button which, when clicked, gets the person to leave their name and e-mail address and the names and e-mail addresses of 3 to 5 of their friends who might be interested in your products.
Tell them that they will get, say, 5% of the sales value paid into their PayPal account 31 days after a sale to anyone they recommended. You can change the length of time to be one day over your guarantee period so that you are not paying them for refunded sales.
This is the first part of two regarding my thought about profiting from referrals so keep an eye out for the second part shortly.
So how many of you are doing this? And how successful is any of your referral programmes? I'd be really interested to know below please