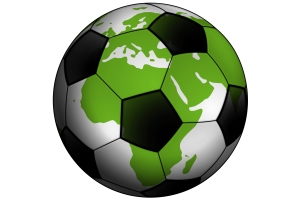 Grumpy Old Man – World Cup Musings
Well, England did better than I actually thought, we got a point, but in the so-called group of death, how did Costa Rica do so much better than England, not only in the game against us, but in the tournament as a whole?
Also, look at the German side, all probably getting as high wages as our prima-donnas, but playing as a team and as a country to eventually end up at the top of the pile!
At the start of the Tournament I predicted four teams that I thought would do well and three of them reached the semi-finals and two the final. I did not think Holland would do so well as they are like a jigsaw, fall to pieces when they get in the box, more so the finals as they've proved on other occasions!
Spain have peaked and gone backwards and the French flattered to impress in a number of games and Brazil were lucky to only lose 7-1 to Germany in the semi-final. It could have been so much worse!
We had Greg Dyke, the Chairman of the FA, suggesting that we should now be aiming to win the 2022 World Cup in that hotbed of football, Qatar. So how the hell can we go from this shambles to a World Cup winning side in a short period of 8 years?
Easy and these are my simple steps.
Tell any player over 23/24 today that he is never going to play for England again, except maybe for the keepers and they must be no older than 25/26.Sorry Rooney, world class where, in his own bath water? Lampard, no more free summer holidays at the FA's expense. Milner, please no more! And the list goes on!
Tell these youngsters that they are the future of the England side, play them as a "team" for the next 8 years and although they might not actually win the WC in 2022, they'll get a lot closer than any of the England sides since Italia 90! Yes there will be some who drop out and others who come to the fore, but we need to build with youth from now.
And build another similar set of 24 players from an age group of 19/20 to follow these and keep that system going each and every four years!
Will that stop us qualifying for the Euros in 2016 and 2020 or the World Cup in Russia in 2018? To be honest, probably not as we will be a top seeded side and capable of beating most countries. It is only at the finals that we fall to bits!
Stop worrying about winning friendlies
We play friendlies to try out players, systems and tactics under match conditions versus a side that is also doing the same thing so why do we have to win them each and every time we go out there. Yes play to win, but don't start chanting for the manager's head if they should lose.
Use these games to build a team and a system, not just to rack up victories against teams and make everyone expect more than that of which the team is capable!
Ignore the Press as they have no idea!
One sure fire way to fail is to listen to the English press and their thoughts on players, tactics and systems. Most of them could not pass a ball five yards accurately so their football knowledge is restricted to sitting by a typewriter, accepting freebies and pouring scorn and vitriol on players who might have had an off game!
Even the ex-players do not help as their employers, the newspapers, want discussion so encourage criticism of everything to do with the performances of the team at all time. Yes, there is plenty of scope for that with the side, but that does not get anybody forward and excited about the future.
Pick a manager for the full 8/12 years
As much as Roy Hodgson as done a decent job, he won't be around in 8 years and there will be a new head coach, maybe more than one, by 2022 so it would make more sense to pick a good, young English manager to work with the squad at all levels for the next eight years as consistency will bring rewards.
Not sure that Gary Neville or any of the current coaching staff are the answer, but we need someone who has a full set of clubs to make this a winning country again.
OK this might seem a negative post, but we need to seriously build for the future and so players in their late 20's now will not be a part of the team or even organisation when Qatar comes round so why not plan for that now and move on with that goal in mind.
What do you think of my proposal? Comments welcomed below as always and I am actually sending a copy of this, produced more favourably to Mr. Dyke for his consideration.